Advent is the time that marks the beginning of a new liturgical calendar year in the Catholic Church. Here, we prepare our hearts, minds, and gifts for the coming of the birth of our Lord Jesus Christ. In addition, the secular world is wrapped with all sorts of Christmas jingles and songs, from hymnal classics to recent pop star covers. All the music blaring around us can get a bit taxing and overwhelming, since some of the department stores and shops will even start playing the Christmas tunes several weeks before Thanksgiving.
Needless to say, not all Christmas music played at stores and shops have their downsides. Some of the best Christmas music can be found in the great collection of Advent and Christmas songs from the Catholic tradition. The Church has a rich history of music for Advent; songs that help develop contemplation and preparation, as a way to prepare ourselves for the Christmas day and the subsequent Christmas Season.
Here are three examples of music you can check out and add to your Advent music collection:
Song highlights include "Prepare Him Room", "Savior of the World", and "Starlight", this Advent album will be more favorable to those of the P&W (praise and worship) and solemn crowd. Nevertheless, there are still songs in the album for everyone. The songs are more solemn than the typical Christmas music fare you'll hear at your nearby Starbucks or Lowe's.
Benedictines of Mary, Queen of Apostles, Advent at Ephesus:
Song highlights include "Come Thou Redeemer of the Earth", "Rorate Caeli", "Preparate Corda Vestra", "O Come, O Come Emmanuel", and "Alma Redemptoris Mater". Songs in this collection are more hymnal and contemplative. Remembering that Advent is a penitential time, songs in this album can help prepare the heart in particular to develop the still quietness to leave room for the Infant Savior.
The Cathedral Singers by Richard Proulx: Catholic Christmas Classics Volume 8: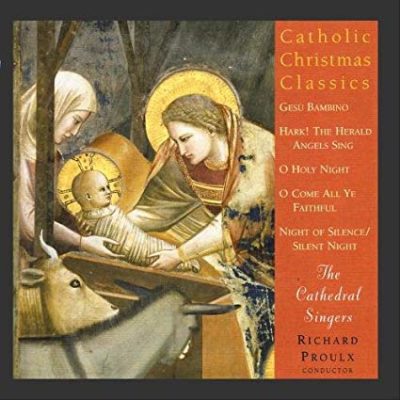 Even though songs in this collection are more Christmas songs, which include classics  as "Angels We Have Heard on High", Gabriel's Message", "O Holy Night", and "What Child is This", there are other very good Christmas songs such as "Sleep, Holy Babe", "Fum, Fum, Fum", and "Twas in the Moon of Wintertime". This album is more choral and hymnal than the other two albums featured.
The ones featured above is an incredibly small snippet of available Advent music.  Check them out; and if you know of others, list them in the comments on Facebook.