Family: The School of Virtue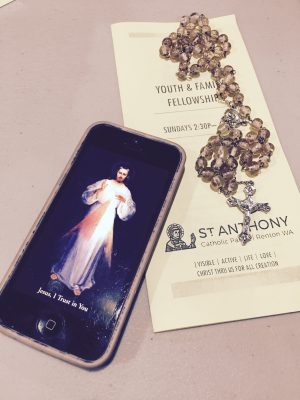 Roaring laughter. Shrieks of excitement. Smiles of endearment.
These are the snippets of memory that came from our first Youth and Family Fellowship Event this past Sunday October 15th.
For many, this may have been a different setting than your typical lazy Sunday afternoon possibly folding laundry, catching up on homework, or flipping the channels to find the game.  This day, families chose to come and focus on building community within its members and other families that attend St. Anthony as well.
We started out heartily eating together the food of choice to most youth: pizza.   Then, families competed with each other in obtaining the most amount of pictures in our photo scavenger hunt. Some example items included taking a picture of their food plate, a picture with another new family, a rosary or religious article, and a video of a group of people doing a dance move. Two families completed the entire list and could walk out of the room with complete bragging rights to their collective efforts.
The families finally squared off in a game with the objective to stack cups together only using yarn and a rubber band that each member had to pull in order to accomplish the task together. Screams and laughter ensued when instructed to now only use their teeth to complete the task, only to have a last cup wobble and knock the whole structure down in some cases. It was quite a sight!
This activity effort helped reflect for us that, like life, we must have a clear common goal that is understood by all the members of the family toward the work of good and overall vision of the family.  And that even though we have this goal, it's not always easy to accomplish if we don't work together, exercise patience amidst the mistakes and downfalls, and fail to see each other as vital necessary contributors in the journey.
This was the key in understanding and introducing our key topic for the year: the theological virtues.  "What is virtue?" you might ask.
According the Catechism of the Catholic Church:
"A virtue is a habitual and firm disposition to do the good. It allows the person not only to perform good acts, but to give the best of himself. The virtuous person tends toward the good with all his sensory and spiritual powers; he pursue the good and chooses it in concrete actions."
"The goal of a virtuous life is to become like God." -St. Gregory of Nyssa
-CCC 1803
We discussed the primary place that we have the opportunity and blessing to practice developing these habits to do the good is none other than the family and in the home. The family, into which, we have been born; we did not choose our families. Therefore, they are a gift designed and ordered by God.
How are we to discover the greater vision of our families for the good? We also discussed the Four Levels of Happiness by the great philosopher, Aristotle. By his principles, we can find this vision via the high level of happiness for every human person, which is transcendent happiness. This kind of happiness is not found in material things or worldly status, but in peace, truth, goodness, and beauty– to envision the family as the image of God's love in the world and our destination to be in Him, who is our true end.
Families at the end of the event had the opportunity to participate in Lectio Divina together over next week's Gospel readings and to practice talking about Scripture together connecting with their everyday lives. This was intended to promote families to experience the Mass more fully the next time they attend. We also had a raffle for a hand-carved Pope Francis Pumpkin to an attending family. Overall, it was a memorable time and we are truly excited to follow up with our other Youth and Family Fellowship dates:
Dec 3rd: Faith – Family that prays (Guest speaker: Aires Patulot)
Feb 18th: Hope – Mercy and Forgiveness (Guest speaker: Debbie Rodriguez)
April 15th: Love – Seeing the image and likeness of God in each other (Guest speaker: Amanda Koppes)
We hope that you may consider joining us for our following events. All are invited. All are welcome!